PRESS RELEASE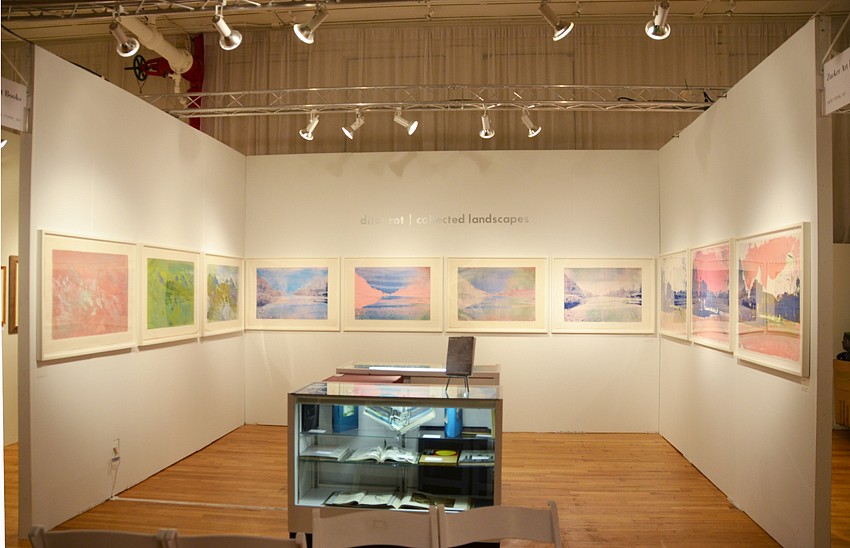 22-26 January 2014
METROPOLITAN PAVILLION
125 West 18th Str., New York
diter rot collected landscapes features seminal works from 1961-79. Though landscapes constitute a small part of Dieter Roth's approximately 600 graphic works, they are notable for their powerfully perceived subject. Most of these works are appropriated from mass-produced imagery. Roth first began to appropriate such imagery when, in 1961, he cut stacks of British Daily Mirror newspapers into small 2 cm cubes and bound them with cheesecloth to form the daily mirror book. With this gesture Roth created the first conceptual artist's book. Also that year, he combined newspaper pages, now shredded, with gelatin, lard, and spices in a sausage casing and created Literaturwurst (Literature Sausage). While neither is a landscape, both these iconic works are on view.

The earliest examples of Roth's landscapes are altered postcards. In these, the artist takes two like postcards of Icelandic views, cuts them in half horizontally and then tapes two top (or bottom) halves together to form a conceptual symmetric landscape. Initially, he sent them as mail art to friends. These unique objects initiated Roth's manipulation of postcard images, a medium that obsessed him throughout the 1960s and 70s. Roth's most famous reproduced postcard is of London's Piccadilly Circus, which became the basis for numerous works. When Roth began a series of silkscreen monotypes in 1970, rather than a postcard, a photograph taken by his brother of the square in front of the train station in Solothurn became the basis for the new work.

Solothurner Bahnhofplatz, 1970 (see image above) is one of a series of monotype prints made with a revolutionary silkscreen process Roth had developed, employing 10 to 20 colors to create unique images. The idea behind these visually magical prints, and one which encapsulates Dieter's philosophy, is to practice art as life and life as art--each pull and each color results in an unknown outcome, a chance happening.

A group of monotype Swiss landscapes is shown in a succession: three of Solothurner Bahnhofplatz, three of the elusive Berner Oberland, and four examples of the beautiful View of the Emme. These monotypes harken back to Dieter's early years in Reykjavik where, while working in a commercial offset printing house, he found that when paper is fed through the CMYK machines to clean the presses, beauties beyond his imagination emerged.

New publication: diter rot collected landscapes, 2014 available.

A selection of rare books (1809-2009) addressing landscapes transformed is also on display.